Traits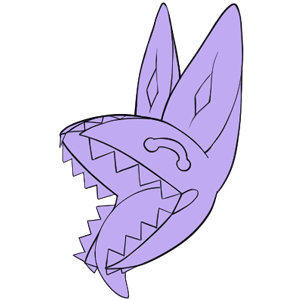 ---
This head trait permits one use of either or split options offered below! The Cross-Mouth trait is an unstable trait that permits a second mouth to split alongside the normal mouth chosen! the normal mouth is able to be twisted and turned to rest on an X-axis or + axis as shown below.
Why is this trait unstable?

This is due to the way it alters a fox's facial structure and mouth functionality.



Why is this Unstable but Rare vertical mouth isn't?

Vertical mouth was made before we truly established what makes an unstable trait unstable, and to prevent future confusion with traits we are leaving it as is! this also gives members a less rare option to choose without needing something as rare as an unstable potion! 
---
This trait is combinable with other head traits, such as:
R Vertical Mouth -  to give a 3rd split in combo with an x-axis split
H Chompers 
UC Fangs and Tusks - to give a disheveled toothy appeal
U Unhinged - to continue the split down a fox's head and neck, etc! (if choosing this combo, please note your ML entry will need a headshot showing the mouths CLOSED to create the main head)

 
---
This trait CANNOT:
Go past the head/face area.
Be used on H multiple mouth to create X and or + axis mouths across the body, as this is a head trait.
Be merged with any non-teeth affecting the trait.
Examples of the axis splits can be found below:
---
If you have any questions or concerns about this trait or possible combinations, please contact Darci or Benaberrry for further help! 
This information may be updated in the future to better explain and structure this information for the benefit of the staffing and community.
1 result found.