Rite of Purpose [Scarfox]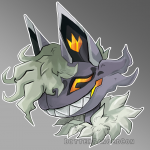 "One day, I saw a light shining in the middle of the forest."
"..."

"It was like ... calling me ..."

"I've decided to go see what is this light is."

"I'm closer ..."

"..."

"Who are you? A ... Scarfox? Why are you here?"

"Astral is your name? Well ... nice to meet you. My purpose? I don't know ... I'd like to understand to why I arrived here, and who lived here ... I'd like to thank them ..."
"Is it my mission?"
________________________________

Ginger was about to leave the forest to find their mentor, but he noticed a weird light.
He went to see what this light is, and he met Astral, The Chronicler.
His goal would be to meet his to mentor across the world.

________________________________
And here's finally my second rite!
I wanted it done! And here it is!
Ginger (c) Nocti0bake
Scarfox species (c) Darci
---
Submitted By NoctiObake ・ View Favorites
Submitted: 3 weeks ago ・ Last Updated: 3 weeks ago
Mention This
In the rich text editor:
[thumb=2367]
In a comment:
[![Image](https://www.scarfox-realm.com/images/gallery/2/2367_BBJyZ0L2KJ_th.png)](https://www.scarfox-realm.com/gallery/view/2367)
There are no comments yet.
Comments
Authentication required
You must log in to post a comment.
Log in