Across the Forest : Part 2 [Scarfox]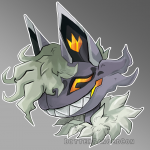 "This house was left as is, but why? Maybe this person is somewhere in this forest?"
"..."

"They left books behind them. Those seem to be handwritten."

"These speak of a species named Scarfox."

"I need to know more."

"..."

"It's been over a month that I look for him but impossible to find him."

"I have gone through the forest all the while learning more about what I can be. I decided to leave a written record behind me.

After that, I will leave this place to meet my mentor and give him his book. And thank him."
________________________________

Ginger decides to live in this house cave until the return of the owner. However, this one never returned to this home.
Ginger decided to look for the Scarfox that had left this place. Among the books he had found, there was one about this unknown species for Ginger: the Scarfoxs.
Ginger looked for this Scarfox named Frey without success. So he decided to learn by himself by visiting this forest that fascinated him.

And leave a trace as well before leaving the forest.
________________________________
And here's the second drawing of my "Inter-Rite"
I wanted to slow down scarfox art but it's been months that I had to finish this drawing. Anyway it's done!
I want to continue Ginger's arpg!
Ginger (c) Nocti0bake
Scarfox species (c) Darci
---
Submitted By NoctiObake
Submitted: 3 weeks ago ・ Last Updated: 3 weeks ago
Mention This
In the rich text editor:
[thumb=2366]
In a comment:
[![Image](https://www.scarfox-realm.com/images/gallery/2/2366_Po7c3UiaYn_th.png)](https://www.scarfox-realm.com/gallery/view/2366)
There are no comments yet.
Comments
Authentication required
You must log in to post a comment.
Log in