The Cave : Part 1 [Scarfox]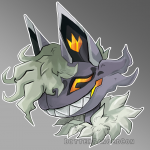 " I saw the snow storm coming back ...
... Not again!"

" I need to hide somewhere! "

" ... "

" ... "

" A ... door?
On a cliff? How weird ..."

" ... "
" Hello? Is anyone there?
Wait! The door is open ... "
" ... "

" It's sunny outside from the window.

How? There's a huge snowstorm outside, i
mpossible! ..."
________________________________
After his painful awakening, Ginger got up. He noticed a snowstorm approaching at high speed.
He went in search of a shelter that could protect him from the cold. In his search he noticed a door embedded in a cliff. Thinking of finding someone to shelter him, he noticed that the door was open. He found a room serving as home within the cliff. But everything was abandoned. He noticed books scattered all over the place and decided to stay in this ammenaged cave seeking answers in these books. Who knows, his owner could come back.
The detail that struck him most was the light coming out of this window. This light did not seem natural.
________________________________
Here's the first drawing of my "Inter-Rite"
I wanted to make two pieces before finishing the second Rite. It's easier to explain Ginger's story.
Hope you'll like it!
Ginger (c) Nocti0bake
Scarfox species (c) Darci
---
Submitted By NoctiObake
Submitted: 3 weeks ago ・ Last Updated: 3 weeks ago
Mention This
In the rich text editor:
[thumb=2365]
In a comment:
[![Image](https://www.scarfox-realm.com/images/gallery/2/2365_7yF2SLNBNf_th.png)](https://www.scarfox-realm.com/gallery/view/2365)
There are no comments yet.
Comments
Authentication required
You must log in to post a comment.
Log in